It has been a long time since we managed a holiday together, but we took off a couple of weeks ago to stay at the magnificent Old Silk Farm in the Ardeche, one of the southern departments of France.
Kelvin worked on the restoration a few times before starting the building of New Forge, and it was probably that work that gave him the bug to want to build for us.
It was about 600 miles drive down from Calais, after another brilliant Eurotunnel crossing. A combination of cheap French diesel, and a stronger pound meant that didn't cost too much. We also had a great overnight stop with Tantely and his lovely family in Paris on the way down. Must go back there soon!
The amazing house sleeps 20 including its self contained studio, it has a pool with a view over possibly a hundred miles to the Rhone Alps. Lovely though the pool is, we spent our time swimming in the rivers.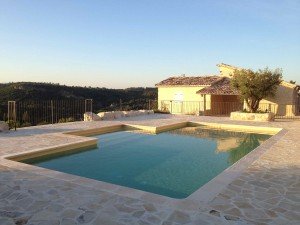 The house also has two great kitchens, a courtyard with table tennis, and so much space for all the family to find their own space for peace and quiet, or get together.
And the area? How many grand vins do you want?
You're not far from Chateau Neuf, and so many others.
We stopped at Beaune on the way down, drinking at the best French wine bar I've yet to visit. That was a recommendation from Tantely and Karine up in Paris. Then in the morning dropping into tiny Ruilly hoping to buy some of the nectar we'd enjoyed the night before.
We ended up buying wines in the lovely Alba la Romaine just down the road from The Old Silk Farm, and gorgeous, though expensive, nougat from Montelimar.
The highlight of the countryside has to be the Ardeche gorge, we must go canoeing next time.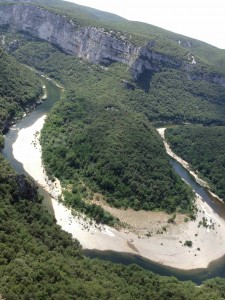 And this is the tiny town of Vogue where the chateau is worth a visit as it's mainly a modern art gallery now.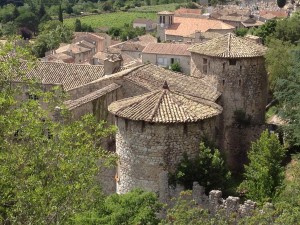 And here are a couple more shots from the house.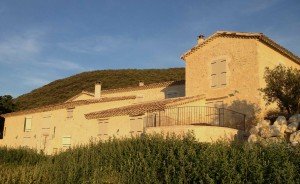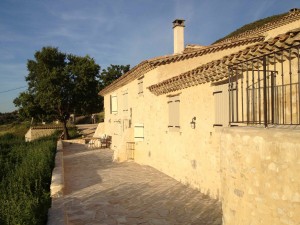 I'm hoping to manage bookings of The Old Silk Farm in future, if you're interested do let me know. And just in case the link to The Cornish Way seems a little tenuous for you…