For the love of the open road, slow exploration, outdoor living with the comfort of a decent bed, and a major simplification of life.
Is this a new offering from The Cornish Way? Follow ArchieVan at www.thecornishwanderer.co.uk
For some time now I have absorbed peoples stories of van life, whether they be about complete life transformations giving up on bricks and mortar, or taking in big road trips.
Borrowed vans – getting a feel for it.
We have borrowed vans – notably Constance, a much older version of ArchieVan, albeit with Mercedes branding, and then the mighty Moog, our lovely friend Dom's venerable Hymer.
Constance taught us caution – she was a beast to drive, but great to sleep in, and had a crazy homespun finish including a wood burning stove.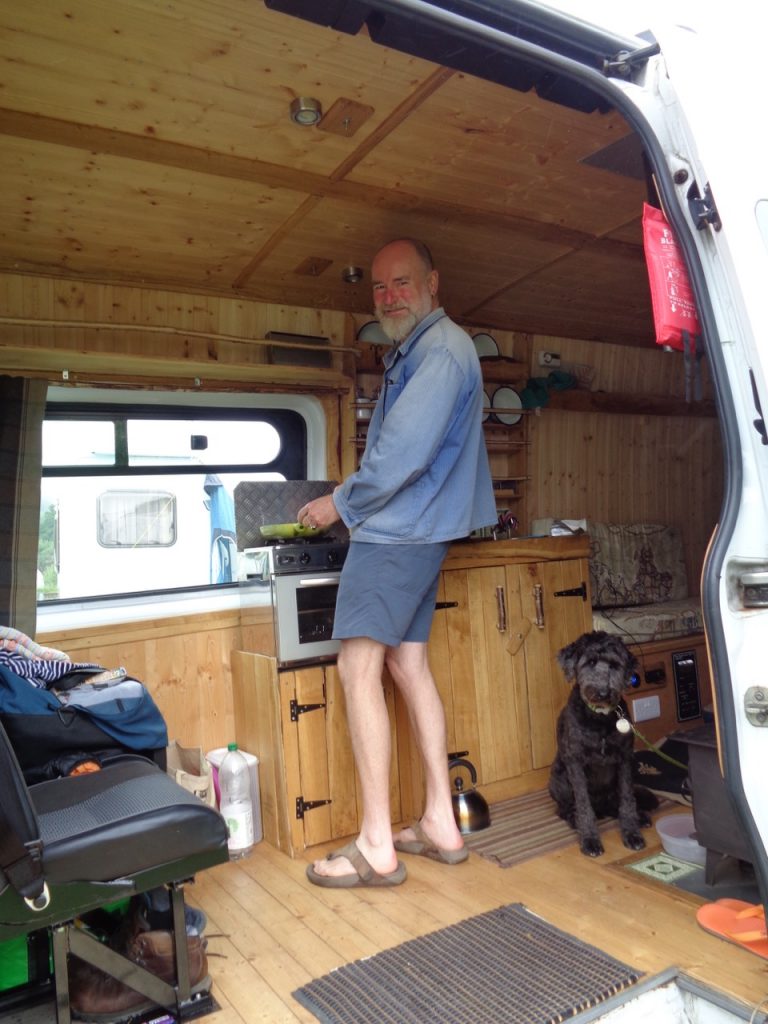 The Moog showed us just how comfortable camper vans or mobile homes could be although he was even more challenging to drive, and notching up the years at 23 or so.
We visited sales places, jumping excitedly from expensive van to expensive van. I loved the huge motorhomes with distinct sleeping, working, cooking and dining areas. Minty clipped me around the ear and reminded me that they wouldn't get down many of the roads we wanted to travel at home let alone abroad.
A motorhome?
We weren't sure of the general look and feel of motorhomes.
While most have ingenious layouts and offer good living space, none could be envisaged as doubling up for day-to-day transport. Then there was vanity. None seem to have moved on from the 80s in terms of materials, until you go into the stratospheric price range. We were keen to avoid the fake wood veneer that reminded us of early Ikea snap together flooring.
A transporter?
Our in-laws Dave and Becky have a beauty of a Caravelle that the family go off camping in regularly, particularly to the VW scene events. It's no longer than the Passat and even easier to drive. We considered the idea. I even tried to buy a banana yellow one that I fell for at Camper Jam 2016. But fortunately someone got there ahead of me.
We even joined the middle aged, middle class procession that is the Motor Home Show at the NEC – I laugh at us going, but it was brilliant and filled my head with ideas.
A big van conversion.
We figured that the DPD drivers get everywhere in Cornwall in their LWB Mercedes Sprinters, and so, while long at 7 meters, a Sprinter or Crafter would do the job admirably.
The search.
How anyone can enjoy online shopping I don't understand. I drove myself mad looking at thousands of white vans, each with slightly different specs, and wildly differing prices.
We considered the easy option of buying a readily converted van and realised (I knew already) that we are very difficult to please. OK. I am.
The conversions generally have huge garage spaces for bikes or motorbikes, while we wanted maximum living space for comfortable long trips away.
The smartest ones, from northern converters McLaren, are well out of our price range and are just a bit (a lot) too glamorous.
Design our own.
We concluded after months of thinking and searching that we'd have to design our own and have it built, ideally by someone fairly local to us.
What's in a name?
He had to be called ArchieVan. Since moving to Archavon in St Just the house name has grown on us. Our St Just guide came from Archavon Publishing, interior design projects have been delivered by Archavon Interiors. The van had to follow the theme. He had a name even before he had form.
ArchieVan – the dream becomes metal.
At the end of September I took delivery of Archie. Then 18 months old with 22,000 miles. He's the most powerful and most economical of the VW crafters, but other than a good engine is light on toys. No air con, sat nav or other luxuries. But that didn't matter. He was ours!
A painful conversion.
Archie's conversion has been a painful process, and despite being 2,000 miles into the first big journey, it isn't finished yet. It will be brilliant, and maybe I'll write about the process on www.thecornishwanderer.co.uk in time.
What we're most pleased with though is that he's one of a kind. There's no van out there like Archie.
His furniture was made by joiner and instrument flight case manufacturer Andy Sweeny, it pulls comments everywhere I go as soon as we open the huge side door.
The Corian like worktops is by a Samsung brand called Staron and as well as bringing colour, will avoid the common problem of peeling worktop edges that we saw on many vans.
And then there are the seats – Metropolitan Line neon orange fabric from Kirby Designs – it cost a fortune per meter, but thankfully you don't need much in such a small space.
There are no frills like TV or surround sound. There's no microwave or satellite receiver. But there will be a shower and toilet after a visit back to the converters in October. In our mind it has all you need for a long road trip, including wild camping when the mood takes you.
An easy drive?
I have now covered a few thousand miles in the van, both before and since his conversion. Anyone who tells you that driving something as big is like driving a car isn't truly in touch, but it's not hard to get used to. The key things to remember are length – watch the back end at junctions, and be sure to swing wide, and that cornering is an altogether different experience. Take it easy and you'll be fine.
Lots of insulation in the cab helps keep noise levels down making the experience less tiring. There'll be more under the bonnet in a few weeks too and that'll help even more.
A new blog.
I've started a new blog at www.thecornishwanderer.co.uk that currently tracks our maiden journey down to Slovenia. I'm sitting writing now looking out over rolling gentle hills, with a backdrop of mountains and forests, with hardly a sound other than the softly falling rain. We're guests of my old friend and frequent The Cornish Way photographer Frances Gard who moved here at the end of last year. I hope to visit again and write about her exciting grand design, the conversion of her huge barn into a beautiful house.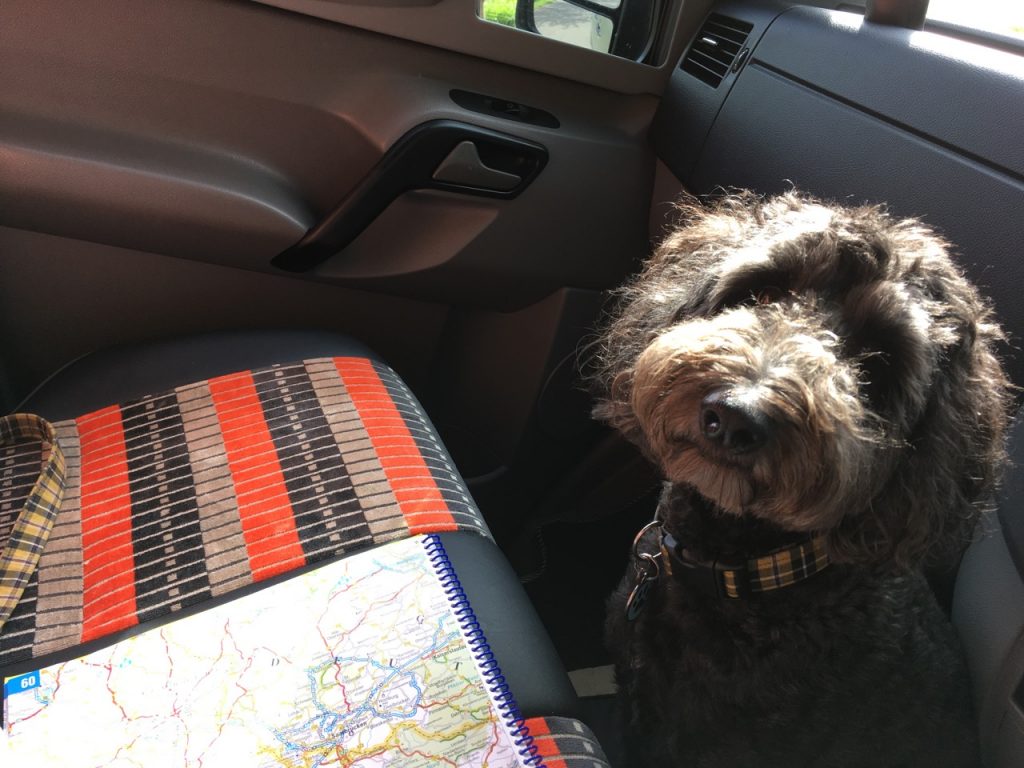 Do you fancy your own road trip in Archie?
This is ArchieVan's maiden voyage. There are plenty of niggles to sort out when we get back. But when he's ready and has been road tested with a perfect results card we will make him available to hire. We soon realised that van hire isn't cheap, and we'll be particular over who gets to drive him, but watch the blog, and our new site www.couplesincornwall.co.uk for news of when he's available to hire.