It's hugely helpful to experience how other accommodation providers approach their business.
How do you best welcome guests?
What information should be shared, and what is left to be discovered?
What constitutes luxury for us may have different connotations for others.
This blog has many stories from places we've stayed at over the years, and I have learned from each, improving The Cornish Way where appropriate.
None has been more particular than the house where I sit writing today.
Life House from Living Architecture.
I have been a fan of John Pawson's work since I first saw pictures of his own beautifully minimal house in London many years ago.
Sleek lines, every last thing considered, nothing out of place. It appealed to my soul, but my hundreds of books, CDs, shoes and more all screamed that I'd not survive a day in Pawson world.
Wind forward to the near present. In 2014 Alain de Botton's Living Architecture venture announced that it was working with Mr Pawson on a project that would be available for private hire.
I was immediately excited.
I read every press release, studied every drawing and photo.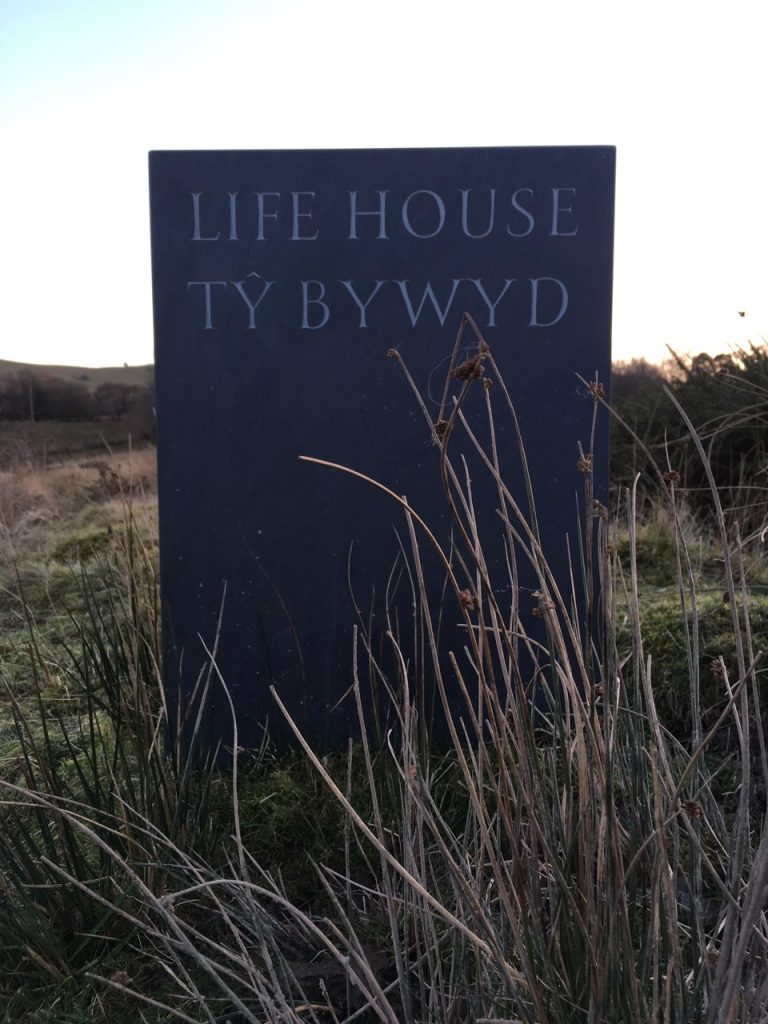 You'll need to save your pennies (and pounds).
Projects such as this don't happen over night, and progress felt agonisingly slow, but eventually in May 2016 Life House was launched and the schedule opened to bookings.
I rushed to the calendar.
And my heart sank.
There was no way that I could justify spending the price of a great holiday anywhere in the world on a few days accommodation north of the Brecons.
I'd have to put it out of my mind.
But I couldn't.
When our sale of the beautiful New Forge completed my solicitor asked whether we'd treat ourselves after all the years of work that went into it. My stock answer to any such question is that I'll buy a Bristol motorcar – but that day I said something different. "I'm going to take us to the Life House".
And here we are.
Could anticipation spoil the experience?
As the time for our break approached I became worried that I'd built it up too much. I fretted that a house couldn't possibly match the expectation that was driving me forward to this week.
I wondered whether I'd have been better staying at home and retaining my belief in the perfection of John Pawson's work.
Driving through the stunning scenery of the Brecon Beacons that fear reached a pitch that had me feeling physically sick. As we turned off the main road near Llanbister I no longer wanted to get there.
I need not have worried.
We stepped inside. A deep calm descended.
A minimal materials palate.
Outside all is brick, dark, handmade brick, that already has started taking a pleasing patina of moss.
Inside every wall surface is brick too. At first you see only light bricks, but turning a corner reveals a corridor of darkness leading to two bedrooms and the Contemplation Room. Yes – the Contemplation Room, and marvellous it is too.
Light limed Douglass fir has been used for all wood work, especially wide boards, probably from Dinesen. Two tabletops are marble – and that's it. Three key materials.
Calm and deeply pleasing.
We removed our shoes and felt the warmth rising from the subtle terrazzo flooring. We turned right on our voyage of discovery.
The music room.
Past deep storage in the corridor leading into the high bedroom.
A rack of CDs curated by Caius Pawson.
On its own vast plinth a valve amplifier, a pleasingly manual CD player, and standing guard, the tall speakers. All by the audiophile's favourite Icon Audio. Oh joy!
The huge bed is made with crisp white cotton.
The brass bedside light switch needs touching again and again, so pleasing is its action.
Behind the bedroom is its cavernous shower room.
If I saw no more I'd have been completely happy.
But there was so much more to come.
The living space.
The wonderful thing about getting proportions right is that nothing feels big, or small. This space is at least 55 foot long, vast by most people's reckoning, and yet it feels just right. The walls are brick lined, of course. There's a single artwork in six pieces, subtle, and relevant. The kitchen offers all you could possibly need, with every piece designed by our man and mostly available from the desirable When Objects Work range.
Two more bedrooms.
The house sleeps six, when that's taken into consideration the price isn't quite as eye watering.
Three bedrooms, each quite individual.
No bed faces a door (so important, so easy to overlook, not always possible to achieve), every bed has a view. Every bedroom has a generous shower room en-suite, where the only change in palate is that the bricks in the shower are glazed.
The bathing room has a comfortable steel double-ended bath with relaxing views over the rolling hills.
The reading room has a collection of volumes in identical covers pulled together by, and including several works by, Alain de Botton. I want to read every last one – I'll maybe get through just two.
Subtle elegance.
As soon as you start to walk away from the house its visual statement diminishes – and how perfect is that? From only half a mile away it looks like a small cluster of farm buildings, blending into its moorland and scrub environment.
For something so special to say so little from the outside is yet another achievement.
A house like no other.
This is a house like no other.
It's name, Life House, is exact.
It's impact maybe lost on some, but for those wishing to take a step back from the headlong rush of the day to day, it could just be life changing.
I fear that the aspiration it has risen in me will dramatically increase the demands I place in any house we might take on in the future. If I could move here tomorrow I would – even to mid-Wales.
The Cornish Way doesn't currently have any houses like this, but I'm planning already, I just hope Seb will take us on if we build one! The closest on offer at the moment is the simple yet elegant Tregiffian Barn where the far reaching views and proximity to the beach will take some beating.
We will be sad to leave – but we have the comfort of knowing that no place beats the varied splendour of the far west, and after a week away Cornwall will seem even more special.
Life House isn't perfect – but it's as close as I've ever experienced.
KC4TCW.