This is a story of extremes.
A story of rich and poor.
Of dense populations and wide open spaces.
It's history blending with an exciting future.
Of tradition and change.
It's a short memento of our first big trip together, 18 nights in India. Most spent in the north, with a final three nights in Goa.
The diary is 12,000+ words, I'm going to try to keep this under 3000.
But it starts in London, where before heading to the airport, we stayed at 40 Winks. It's one of the country's most intriguing hotels.
I say hotel. That's how David Carter describes his wonderful boutique residence. In fact it has just two guest rooms, a double and a single, sharing one beautiful bathroom.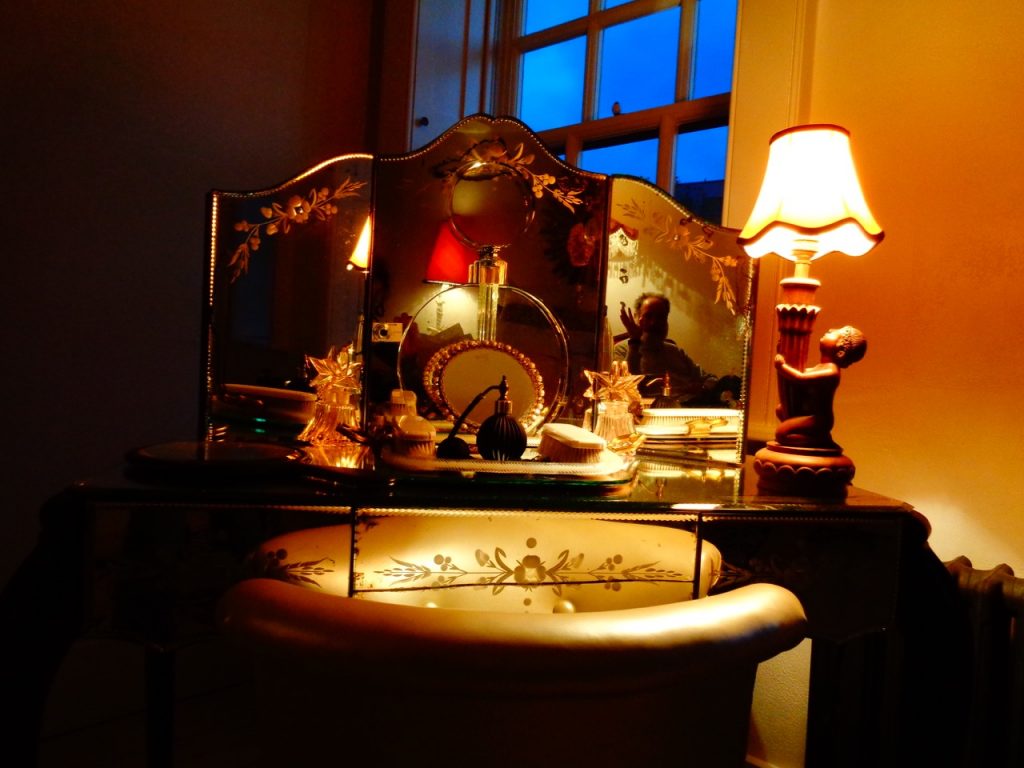 When we lived in London the Mile End Road wasn't exactly a no go area, but it was for the brave. Now as the cool heart of London moves ever eastwards it's the latest place to be seen.
David didn't come here following the cool though. It's safe to say he was way ahead of the curve and his neighbourhood is just catching up. I'll let the pictures take up this first night's story.
Heathrow to Delhi.
I don't like flying.
I am intensely uncomfortable in the confined noisy space, fed by recycled air and weird food.
Thankfully Minty's enthusiasm for getting away helps balance my reluctance to get into the aluminium tube.
It was as bad as I expected and we were pretty exhausted and apprehensive by the time we disembarked in the early afternoon in the world's most polluted city.
This was also our first organised trip and thankfully on exiting customs we were met by the representative from Audley Travel.
Taking a prearranged trip seemed to remove us from reality of a real travel adventure at times like these, but so what, we were delighted to have a man who knew where he was going.
That first destination was the Colonel's Retreat in the Defence Colony area of southern Delhi.
We didn't mess around trying to be hard, trying to squeeze the most out of our first day. No not us. Within 20 minutes of arrival we were both fast asleep, grateful to have a comfortable bed, even if we had no idea where we really were or what was likely to happen next.
Refreshed, well, moderately, we ventured out with nothing but a hard drawn map from the homestay (think big guest house/small hotel in the UK) into the wild capital of India.
Delhi is busy.
Crazily busy.
Any popular street is likely to be crowded by traders filling the pavements selling anything from a haircut, to foodstuffs to that spring that fell out of your grandfather clock in 2011 and you thought you'd never find again. Any space they leave will be nabbed by playing children, someone sleeping rough, or a few dogs trying to avoid the greater chaos of the road.
The road though is much more busy.
You quickly tune into their interesting ability to avoid collision even where there is no order to progress. Your space will be challenged by monkeys, auto rickshaws, bikes, cycle rickshaws, ox drawn carts, lumbering cows, thousands of people, taxis, mini trucks, dogs, people carrying impossible loads on their heads.
Your senses are in overload. Your eyes overloaded by absorbing the beauty and colour despite the filth of the actual streets while they're also trying to keep you out of the way. Your ears are assaulted by the bedlam of traders and hawkers and well wishers and others simply greeting you with Namaste, while all around a thousand horns honk a constant cacophony. And your nose? Well, this was a pleasant surprise, although it's still warm, the smells were generally better than you'd accept in Spain, and often truly positive as incense is burned everywhere.
Street markets, the Red Fort, the massive outdoor mosque – visiting all these was a fast moving adventure with throngs of people, overseen by very large crows, kites and vultures, right in the city centre, although strangely no rats. And yet in all this melee people rarely lose their rag, the inner calm is rather different to the madness all around.
But then it changed.
Still in Delhi we visited Gandhi's memorial (there are memorials to most of the important people where they were cremated). Thousands of people paying their respects, but with a welcome quiet and peacefulness.
Humayun, the second Mughal emperor, has the first of the truly vast tombs India is known for, and here the sense of calm is enhanced by our first experience of the Islamic love of symmetry. Built in the mid 1500s it's worth thinking back to what India, or even Britain, would have been like in that time.
We're fading a bit by now and so we're happy to be just driven through New Delhi, even though I'd so looked forward to experiencing Lutyen's creation there.
A last stop at the Qutb Minaret and we need another sleep before dinner back at the Colonel's Retreat.
Agra.
Sleep? It's so over rated!
At 5.00am next morning we're collected to get down to the station for the train to Agra.
If you get the chance to go to India do catch a train. Simply standing on the platform with hundreds of others in the pre-dawn is an experience. The goods trains seem interminably long as they screech and hoot through the stations. You see a different world from the train – especially the villagers coming out to perform their morning toilet by the trackside!
The Red Fort outside Agra is stunning in its beauty, especially considering it was completed in 1573 after just 8 years, and that it was built as a military fort in the first place. From there Shah Jahan could view the Taj Mahal which he built in memory of his favourite wife, even though he'd been imprisoned by his son for the last 8 years of his life. 75% of it is still in use by the Indian army, but there's plenty for the visitor to see.
There's a lot to Agra and next we popped into the Tomb of I'timād-ud-Daulah, often called the Baby Taj, before heading to the gardens of Metab Bagh to see the real thing at sunset.
Agra's streets seemed equally as unruly and packed as those of Delhi, although after the monsoon when the river is in flood it must be a beautiful sight.
The Taj Mahal – don't believe the hype, it's even better than anyone can describe.
Get up early, be first in the huge queue for the 6.30 opening, and pay particular attention as you enter the main gate that frames your first view of this incredible monument. No man made sight has moved me as this place did. Even at dawn the crowds are quickly in their thousands, but don't worry, they melt away, insignificant in the shadow of Mumtaz's tomb.
Apparently the shah was in the process of building his own tomb on the opposite side of the river when his son got fed up with all his building and put him under house arrest in the fort and making himself emperor. So why didn't the shah have his son's head removed? In her dying moments Mumtaz had him promise to look after the children. Or so the story goes.
Another fort?
Of course. Let's go to the Fatehpur Sikri, about 14 miles outside of Agra, it's yet another massive fortified town, and yet was only occupied for 30 years before they all moved back to Agra. There's a lot that can be achieved with enough slave labour.
Jaipur.
It's then a long and boring road (most of Rajasthan is flat) drive to Jaipur, but you need to wake up when you get there – there's nothing sleepy about the pink city, or it's Amber Fort a few miles down the road.
After checking in to the excellent Dera Mandawa we did a hectic walking tour of the markets, sampling sweets, lassi and water chestnuts. The colours are even more intense at night, and seeing our first elephant bumbling down the road was worth being awake for.
Back to the hotel and there's a puppet show before dinner, an Indian Punch and Judy type affair that's great fun, especially the singing/screeching of the old crone wife of the puppeteer.
After a great dinner we're delighted to sleep in a luxurious galleried bedroom on the best bed and best pillows I've ever had the good fortune to enjoy.
More forts – the massive and beautiful Amber Fort, and the elegant City Palace and the Windy Palace, and something completely different, the UNESCO protected Jantar Mantar Observatory.
Most interesting were the old Durbar photos of Mountbatten and other recognisable names as India approached independence.
On the way to the Amber fort we stopped at the highlight of the day for us. It was simple, yet beautiful as well as functional. This is one of the few remaining step wells in the area, like an MC Escher drawing it's detail will keep you entertained and amazed for a while and keep you away from the crowds queuing to the fort.
By the time we got to the observatory I was flagging and didn't absorb the achievement and majesty of the world's biggest and most accurate sun dials. I do it a disservice with that comment – I'd love to go back and absorb it properly.
Aside – the cash crisis.
As we were leaving the UK and the thinking world was head in hands over the Trump election, Prime Minister Modi was delivering his own earthquake in India. With 4 hours notice the 1,000 and 500 rupee notes that keep India moving were removed form being legal tender. The nation has three months to bank their old notes, but can't spend them. There is utter chaos! Every bank had massive queues for the whole time we were there, but such is his support that there is very little dissent about the corruption busting move that should see much more of the population banked as a consequence.
The move will have cost the nation dearly in the short run as notes soon ran out. A country's economy can't work on the equivalent of a £1 note, especially a cash dominated one like India's. The lower classes and castes depend on tips to get by – but with cash running out and tourists unable to get hold of any, it's these folk who are suffering the most.
Jodhpur. It's not only us who are knackered when we get to the Pal Haveli in the centre of old Jodhpur, Diwalter, our driver, is clearly ready to drop too.
Having checked in we look outside at the chaos at the foot of the hotel's ramp, and decide it can wait until tomorrow.
Instead we go to dinner at the superb roof top restaurant and view the city by night as wedding fireworks compete with the car horns for air space, and massive bats swoop silently through that air.
Ker sangri – my new favourite dish, a dry curry of beans and berries. Delicious, especially with the stunning night view, and great naan breads.
Jonny Singh (really) is our guide today and we're driven up the hill towards the Mehrangarh Fort (another fort!) stopping first at the royal family's cremation point.
Yep, if you're in the royal house here you earn your right to be burnt with the best of them, in fact the fresh ashes of an aunt were still smouldering there. I'm interested that Jonny has huge respect and still refers to the maharaja. He explains that he's a good man who creates employment and opportunities for his people and so they all still love their royal family despite them having no actual claim to a title anymore.
Some of the amazing forts we've seen went up in just a few years, this one took a more respectable 400 years and the changing styles of time are evident when pointed out by a brilliant guide.
Jonny led us back down through the prime real estate of the blue city, the old town where the Brahmin caste pint there houses blue. It's typical India, narrow streets, cables everywhere, food left our for the cows in plastic bags (why do they do that?) and scabby dogs. Minty started a lovely study of doors, and you know doing that helps you focus on the variety and joy of something as simple as an entrance.
After winding down through the markets Jonny leaves us with his Jain mates, who show us some wonderful fabrics that they trade, while Jonny got us super full and tasty samosas to be washed down with a good lassi.
Next day I'm up early for a stroll around at dawn. Interesting to see the effort people are going to to clean their house and shop steps. Everything seems at a glance to be so dirty, but clearly it'd be a lot worse were it not for this effort.
Chanoud.
After Minty braved the world alone to go shopping at the Jain Textiles merchant we set off for Chanoud, a pretty uninteresting drive until the last 20 minutes when we left the main road and headed into the countryside.
We're on a single lane track and it's a game of chicken with every approaching vehicle as to who will give up the centre, and smoothest, part of the track first. It's interesting! Our man is no slouch.
As we get into the village the waving at strangers is even more excited than elsewhere. The driver points out with pride the hospital and school. We later learn that both have been funded by public subscription initiated by our wonderful hosts at Chanoud Garh. Getting to their palace, which is now a hotel, was another driving feat as Diwalter had to hit drainage channels at the right angle to avoid losing a wheel down the deep ditches.
The welcome was sincere, and beautiful. A bindi mark, a garland of lotus flowers, and an encirclement of incense.
Their three dogs – an Alsatian, a Great Dane, and a Retriever then came to greet us – so nice to see pet dogs after all the scabby street ones.
I could write a whole essay on this beautiful place, and hopefully I will.
Of everywhere we stayed, I'd recommend this above all others. It's expensive, and truly special.
Udiapur.
What a shame we were only at Chanoud for one night, but we feel that we'd like to go back there, perhaps even to become involved in the Singh's work.
Next morning, not too early, we're off on another long drive to Udiapur.
En route we had our first change of landscape – crossing the Arvallis hills, which were green and even had flowing rivers and streams.
It's a great detour for that, and also to visit the Jain Temple at Ranakpur, and incredible space built from 1446. It has 1444 unique and intricately carved columns supporting the most unusual and interesting temple you're ever likely to see. It has recently been restored thanks to funding from an Indian entrepreneur.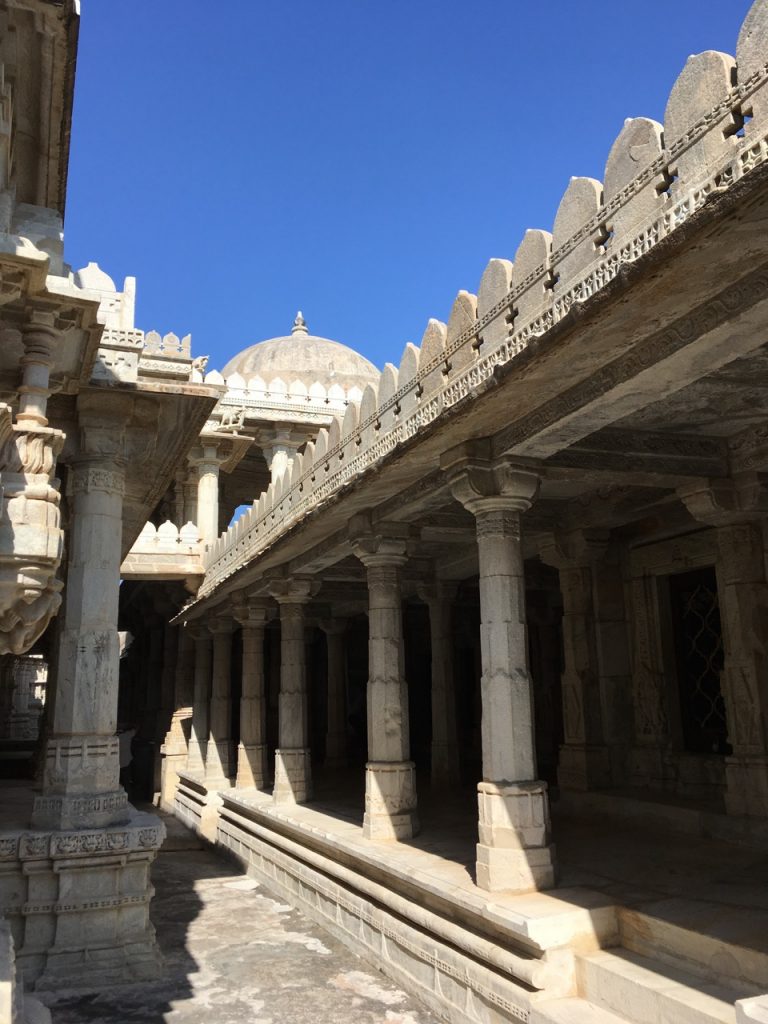 The hills bring other interesting sights too. An ox powered well with a system of cups that digs deep down to the water source. Camels as transport. Even more mad driving. And home made speed bumps in villages built of soil and rocks!
Approaching Udaipur is likely to make your heart sink. It's just another road with mile upon mile of stalls, rickshaws, cows, litter (although less litter) and women sweeping dirt from here to there.
While we have come to expect this from Indian cities, we'd been led along by the photos, the stories of the Venice of the East.
It's not until we pull into our hotel, the Amit Haveli, that it changes, and wow, just how does it change.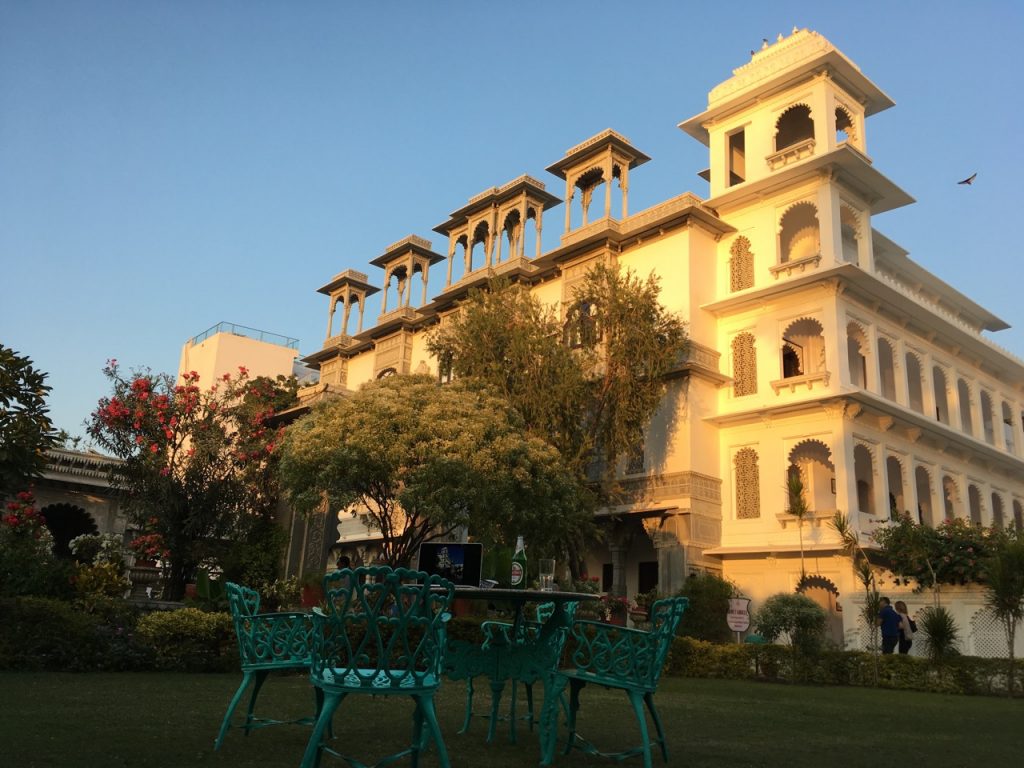 It's a beautiful colonial style hotel with a central courtyard garden with lush grass, pecked at by chickens, chickens ignored by the two family dogs.
We're led to our room and told it is the best in the house, and for once we're not going to doubt it – views across the lake to the summer palace and the other shore from two sides, it's light, airy, and perfect.
By now we have had enough of forts and palaces – we take a walking street and market tour (including getting a heavy silver bangle made for KC, there and then by Dinesh Soni), and chill out for a while.
In the market Answar, our guide, orders a heady concoction from a chai wallah, a brew of ginger and mint for Minty's cold, it's like a curry in a glass, but great too.
We eat at the lakeside restaurant for two nights, the third we eat at the excellent little Jasmine café on the lake by the foot bridge, the food is good, it costs next to nothing, and they covertly serve beer, pouring your glass while hiding under the table.
Go to the Monsoon Palace. On top of a high hill a few kms outside of the city, it was the location for a Bond villan's lair in Octpussy. We must watch the film this weekend to see if we can location spot. It was built fairly recently, started in 1884, as the name suggests as a place to watch monsoons from – how much money did these people have? It's now wonderfully dilapidated and roamed by the monkeys at night.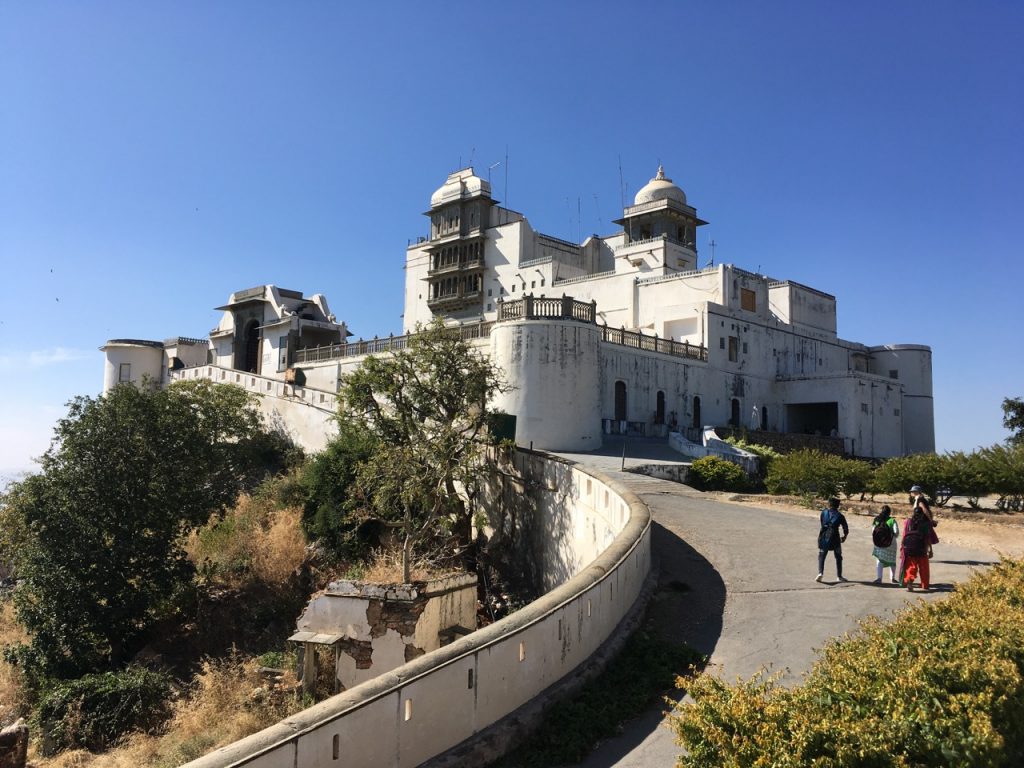 A coupe of flights and a 35 minute drive later and we're pulling into the rather swish Alia Diwa hotel in Majorda, Southern Goa for our last three nights in beachside luxury. You wonder whether it's a different country, and of course at 2000kms from Delhi, it could well be.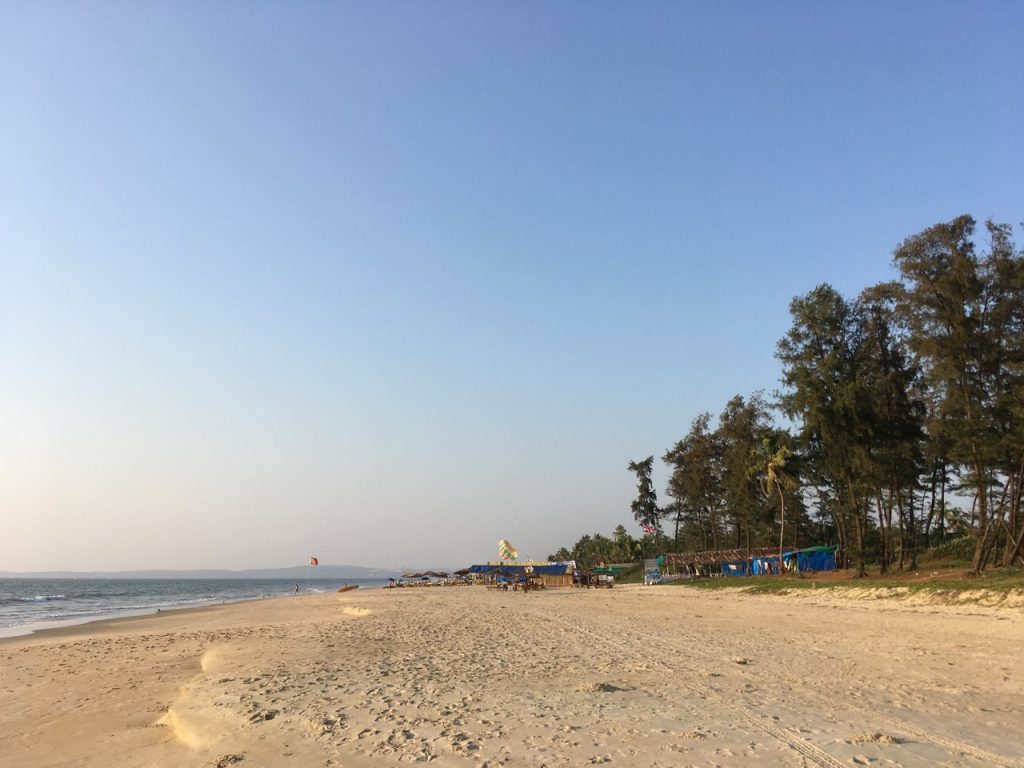 It's clean!
It's green!
And if you have to spend a few days on a beach away from Cornwall then this has to be a good place to do it.
The hotel breakfast was the best imaginable.
The beachside restaurants served great food for very little.
The sea was warm, so warm you'd only get out when you were tired of swimming.
So should you go? Well it's not a relaxing holiday (not until the beach anyway), but if you're up for adventure, learning, culture and curry (breakfast lunch and dinner if you so desire) then yes. It would be a brave family that took children, but some certainly do.
Be sure to take a train journey. And don't try to cram too much in, every place we visited we could have spent much longer at.
It was truly amazing and I hope we go again, ideally to get off the beaten track a little more. And to spend longer on the beach!