For the best children's adventures.
For adults to truly kick back and relax.
For stunning gardens seen through the filtered lens of dappled sunlight.
For a complete escape from the rush of daily life.
For all this and so much more there may not be a better holiday home than Primrose Cottage in New Mill, just a few miles outside of Penzance.
We stayed for just one night with old friends and guests in April and we still talk of the great experience and calm of the house.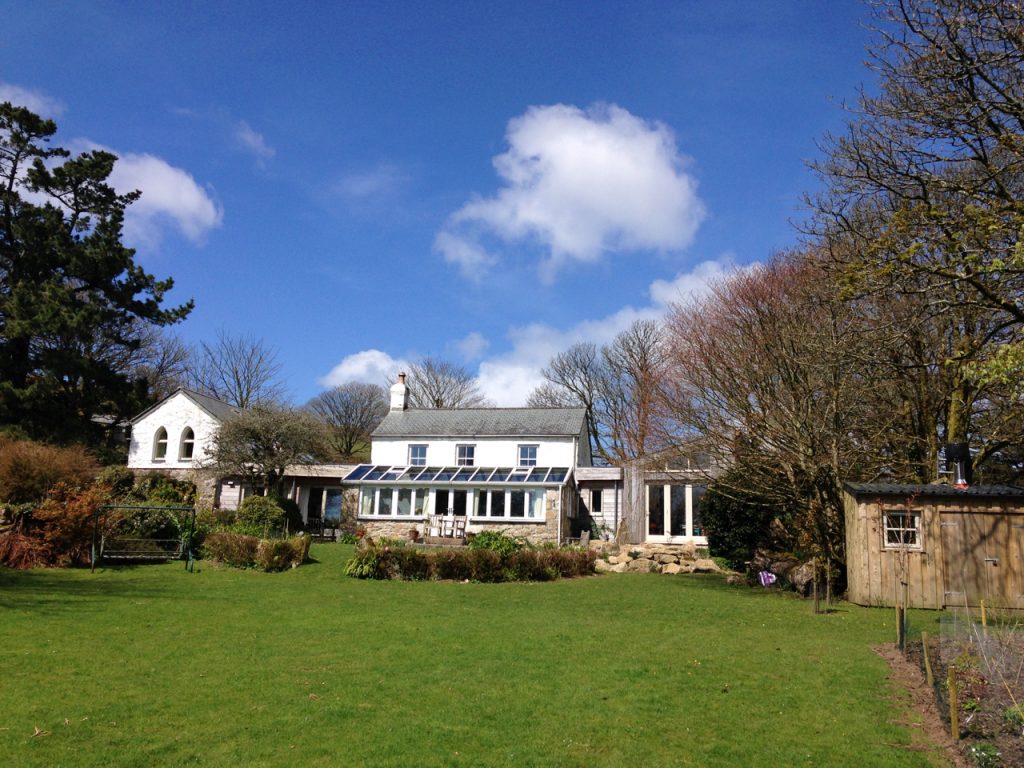 Created by time, and a large dose of love.
The house we see today was originally two separate cottages joined in 2015 by an imaginative and subtle renovation designed by St Just architects Studio West.
Whereas the garden has been a labour of love that's ever evolving, designed and crafted by owner Martin.
Many sleeping options, each with much to offer.
One lucky couple gets to sleep in the beautifully calming smallest cottage, where the back door leads down ancient granite steps to the garden. The couples' joy continues with an en-suite bathroom where every tile was hand made by Caroline the owner.
There are three bedrooms in the old part of the larger cottage with original timber partitions. Each of these gives a far reaching view over the gardens and down to Mounts Bay.
And the final accessible bedroom is in a modern extension on the ground floor, with doors out to the gardens.
Should you ever wish to leave the house and gardens, you'll be spoilt for choice.
Ancient monuments – the far west peninsula of Cornwall has more ancient sites for its area than any other place in Europe. These range from barrows where there is no more to see than a subtle hump in the earth, to exciting near complete villages like Chysauster, and Carn Euny.
My favourites within walking distance of Primrose Cottage include the Men an Tol, Nine Maidens Stone Circle and the hill top once thought to be the home of the gods – Carn Galva.
Beaches – the only ones you could walk to and then it's a whole day affair are Portheras and the tiny tidal beach in the lee of Gurnard's Head. Hop in the car though and there are many within reach including one of the world's best at Pedn Vounder just along from the stunning Porthcurno.
Fabulous eating experiences – try The Gurnards Head, it's worth planning a day's walk around lunch there. The Tinner's in Zennor is a great pub with good food. Marazion has the excellent Ben's Cornish Kitchen. Penzance has The Shore and at nearby Newlyn there's Ben Tunicliffe's Tolcarne Inn. St Ives has too many to mention.
Formal, and less formal, gardens – Our favourite is probably the least formal, that's Tremenheere Sculpture Gardens. The National Trust has Trengwainton and several others and the National Gardens Scheme usually has openings through the summer.
And a fairytale castle – St Michael's Mount. Even though I pass it most days I have to pinch myself somedays as I wonder at its beauty.
There's just a single week available this summer.
Can you make it to Cornwall for the week of Sunday 27 August – 3 September? If you can then you could be in for a treat.
It's the only week available at Primrose Cottage until the winter.
Although watch this space.  There's a fabulous studio soon to be finished deep in the gardens. The studio will make this wonderful space available to couples on shorter breaks as well as larger groups. It should be ready for the autumn.