Above the wonderful Gwenver (Gwynver) Beach there are two beautiful, but rugged, hamlets at either end of the lane off the A30.
I have written plenty about the joy of Tregiffian, we thankfully bought Myn Tea there nearly 20 years ago and we're still very much attached to the place.
Now it's time to turn my attention to Escalls.
Despite being the smaller hamlet, Escalls has the grand honour of naming the sweet chapel out on the main road too. There are perhaps 15 dwellings at Escalls, split between a few lucky year round inhabitants, and a hand full of holiday cottages.
And what an amazing place to go for a holiday.
I can imagine the sheer wonder of a child arriving there. It's far enough off the main road for the little ones to play without needing to be watched every minute, and there are sheep, calves, geese and ducks to enthral them ones too.
Now there's a special place to stay at Escalls that sleeps six in a large and generous laid back farm house and we're delighted to launch it on The Cornish Way.
Manor Farm, Escalls it's a beauty!
The big farmhouse must have been built by a family with money – just two large linked rooms downstairs make for modern open plan living, yet built at least 150 years ago. Just  the cost of heating these rooms all those years ago would have been beyond the means of most.
We often hear the term 'farmhouse kitchen' – well here you'll have the real thing. A generous sized kitchen dining room with an impressive kitchen table that'll seat eight in comfort. There's a range cooker amply big enough to feed your hungry hordes returning from a day on the beach. There's a door to the garden that makes al fresco dining so easy, and a small sofa where the cook can put their feet up when the kids have scarpered again. There's even a wood burner that will ensure the house is popular all year around.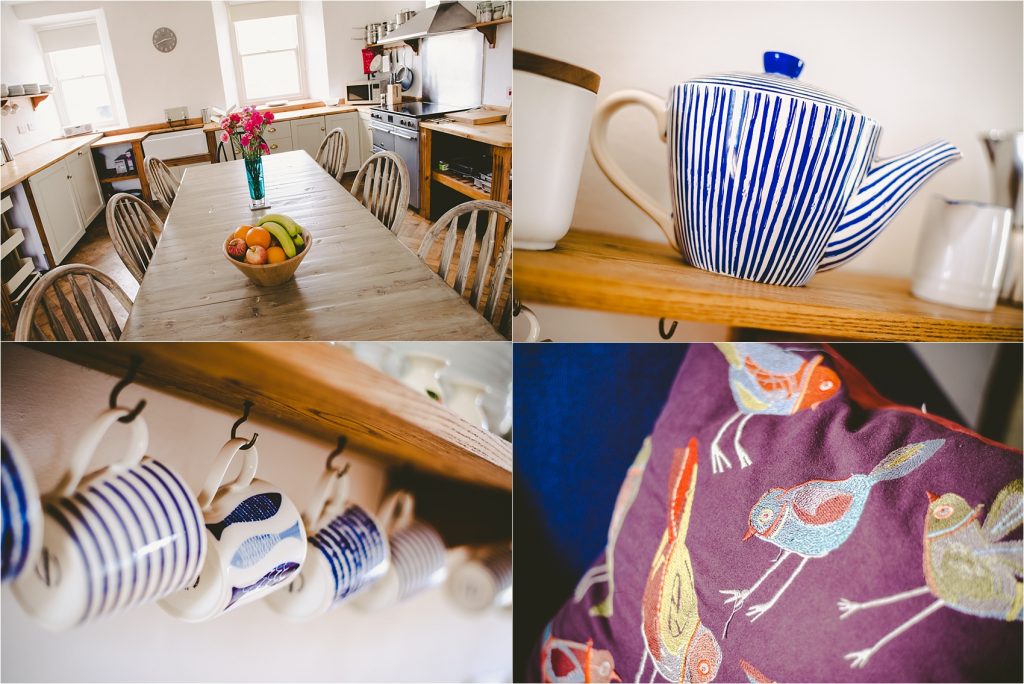 The lounge is the major selling point of this fine old house. A huge room with an unusual and dramatic granite flagged floor, another wood burner, plenty of seating and doors out to both the courtyard and the garden.
Upstairs the three bedrooms are each individual and offering their own attractions. The master has a kingsized bed, wonderful sea views, and an en-suite with a roll top bath.
The second bedroom has views across the hamlet and fields. It has zip and link beds that can be either two large singles, or a huge superking.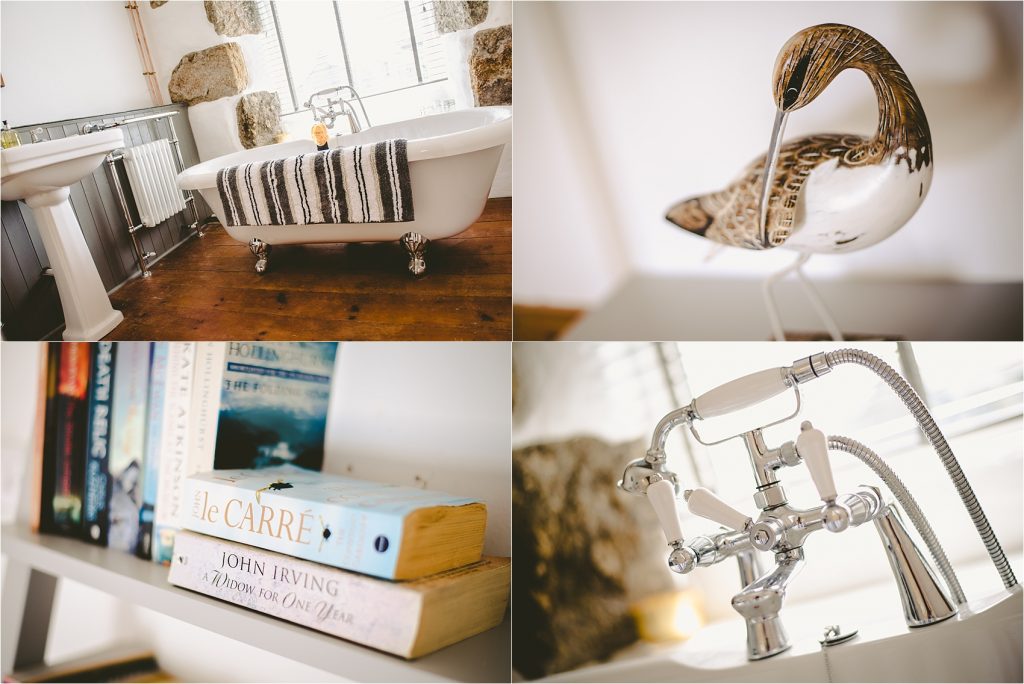 The third bedroom may be the smallest, but it's far from small. It also has good sea views and another zip and link bed.
The family bathroom has a roll top bath with shower over. There's a traditional high level cistern that'll interest the young who might never have seen one, and the suite is from another era too. The bathroom shows the slightly eccentric approach of the former owners and adds character to an already exciting holiday home.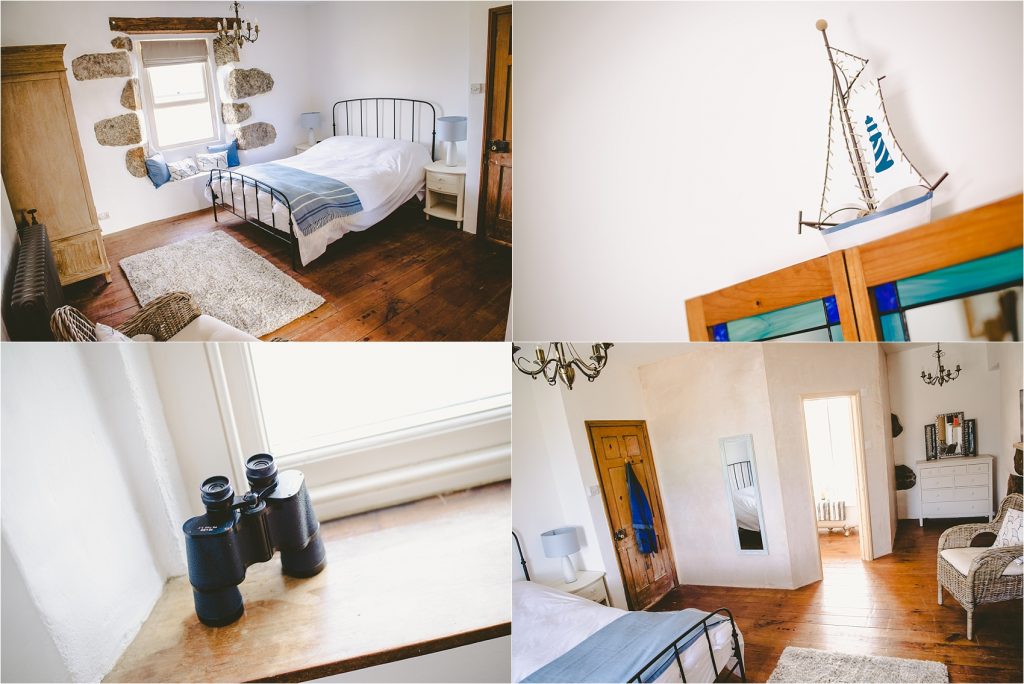 The excellent bed arrangements make this a flexible holiday option that's great for couples, several couples, or a family. And while everyone will have space to retire to, there's also the big lounge and kitchen to gather in.
Outside the courtyard, garden, patio and decked area offer many alternatives for following the sun, barbecuing, and play.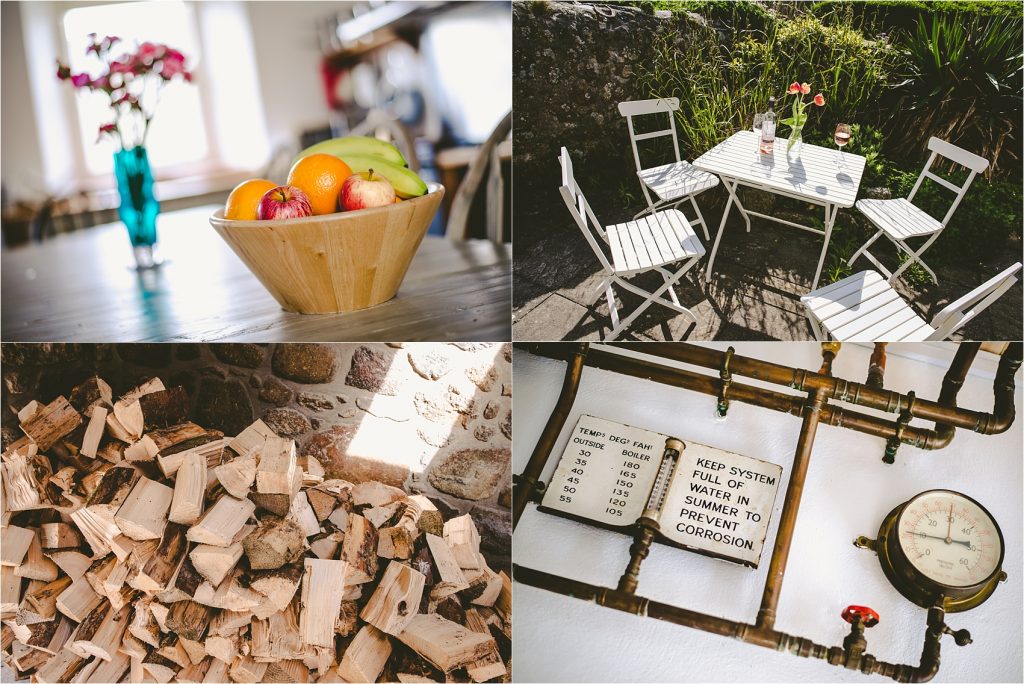 There's also the part converted former piggery. Watch this space, next year it'll be a cosy couples' accommodation option, or perhaps where you send those teenagers who can't be completely on their own, but no longer want to be at the heart of the family.
Grand future plans.
The new owners have spent the first few months of the year doing essential works.
A new roof, a new boiler, decoration, and filling the house with interesting art and comfortable furnishings. Every bed, sheet, pillow and blanket is new – and every one chosen for comfort too.
Next year the piggery will be converted into a cracking little studio apartment, and there are grand plans for the house too. These are in planning as I write, but you can be sure that this house will develop further yet and what's great now will be truly special in another year or so.
Out and about.
A few minutes walk from the house will have you on the cliff tops and the stunning sundowner spots that Minty and I love. Walk a bit further in either direction and you'll get to either Sennen Beach or Gwenver Beach.
Both beaches have lifeguards during the summer and both are known surfing destinations. Gwenver is rarely busy and it's dog friendly all year round.
After Sennen the dramatic cliffs take you around to Lands End, and then get even bigger and better as they round towards Nanjizal.
Walking beyond Gwenver past Aire Point the path hugs the edge passing Nanjulian before you get to the little beach at Penanven at the end of the Cot Valley, and then Cape Cornwall.
Stop awhile at the Cape before heading back to St Just for lunch and then if your energy is flagging you can catch the bus back to Escalls Chapel.
Book now.
Manor Farm is the ideal family holiday home. It's not pristine, it's built for living in rather than as a museum piece. It's a great location and it's a generous space.
I'm confident it will be popular and it will be advertised very soon.
There is still some summer availability on The Cornish Way – if it looks good to you snap it up while you can.