The concept of having too much time in Cornwall has no traction with me, but nonetheless we do have to venture beyond the borders now and then.
This weekend was in the name of research to see what excellent self catering there is elsewhere. We always want to know what we can learn to make The Cornish Way even better.
We headed north with the Bronco team to Ingshead, a wonderful old cottage outside of Garsdale, a few miles west of Hawes on the North Yorkshire/Cumbria border.

The drive across the Dales last night should have been wonderful, but fog and lashing rain made it a challenge, although it's the weather that seems to best suit the barren hills, dotted with sheep, and characterised by their solid looking barns all over.
After Hawes the clouds lifted and the last few miles were amazing. A narrow, largely straight road, but with mad dips and troughs that made it an exciting drive even in a Passat.
The houses has been pretty much rebuilt, and to a high standard too. Generous bedrooms, a big comfortable kitchen with a Rayburn, even a games room with some great musical memorabilia, juke box and pool table. It sleeps six and every couple have their own bathroom as well as big bedrooms.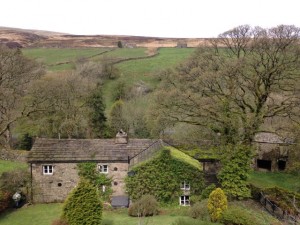 The scenery is all about high rolling hills, fast streaming clouds, and fast rivers too.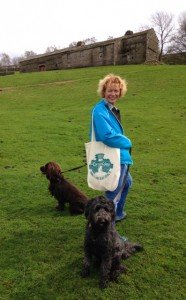 We took a fine pint of Theakstons Best in the Moor Cock Inn, a ironic name given the landlady couple. That as part of a gentle walk about with the dogs, then home for a dinner that's smelling great right now.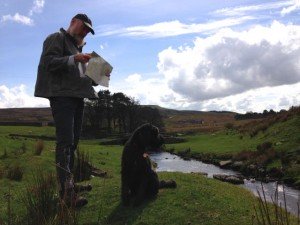 Let's hope there's a visit to the Wensleydale Creamery tomorrow – that cheese shop is amazing.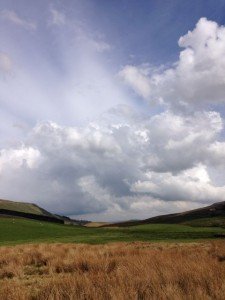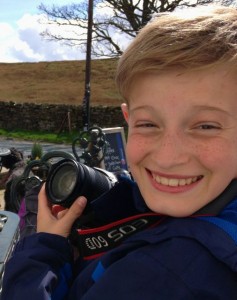 Here's my partner in crime – Ethan.