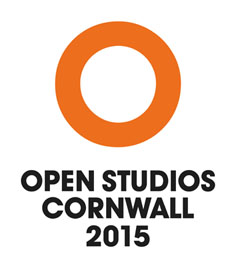 West Cornwall has long attracted artists, you'll read of the St Ives School, the Newlyn School, the Lamorna Colony and more.
Today there are more artists living and working in West Cornwall that ever, and who can blame them, if this landscape doesn't inspire you then what will?
They tend to be an introverted group – working away in their modern day garrets, be that a drafty barn, or a modern studio for the lucky ones.
You might see someone's work in several galleries.
But how do you get to see the artist? To talk with them, to understand their inspiration, what they're trying to communicate?
If you're lucky you'll get invited to an opening.
Or in Cornwall there's Open Studios.
Open Studios is a great event that takes place across the whole county where artists open up their studios (often their homes) to visitors for a week in May.
It has been running for 11 years and Amanda and I usually take advantage to meet a few old friends, and ideally buy new and exciting art.
In 2015 it's on for the week 23 – 31 May, and judging by the number of enquiries we've had for that week Cornwall will be busy.
Take advantage – see some great work, and I hope you'll be inspired to buy something original as a memory of a great holiday in the far west.
There are a few favourites that I recommend.
No. 8. Paul Lewin a northern lad down west, you'll see Paul's work in the Roundhouse in Sennen too.
No. 9 Hugh Lucas works near St Buryan and creates wonderful simple wood works, you'll see his work at The Appletree Cafe at Trevescan near Lands End.
No.137. Rachel Jefferies, owner of the fantastic Trevena Cross Barn near Porthleven. Rachel is part of a show at The Lifeboat Gallery in Porthleven until 22 May. Her work currently on sale ranges in price from £40 to £800.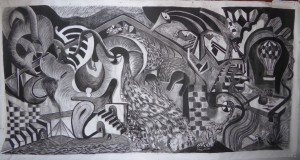 With 232 to choose from, and many workshops too, there'll be something to please most tastes.
Look out for the catalogue that looks just like the logo above in galleries across the county.