Our much loved town of St Just is a place of juxtaposition.
It's beauty is not obvious. The unobservant could easily drive through and barely notice.
The views, from Carn Bosavern, from Kenidjack, and from the Cape are unbeatable. Yet so often they're hidden by fog.
The streets at night are generally empty, but pass through the right door and the party will be kicking.
And now we have a new juxtaposition, a new beauty rising from the determinedly ugly.
Warren's Garage on North Row, behind the post office, would not have inspired many before last year; but now step through the door (noticing the push plate as you do so), and gasp in awe at the space before you.
A view is best framed. The confinement of our vision improves our appreciation.
Likewise space is given freedom by walls.
It's a palpable sensation here.
The Kurt Jackson Foundation opened in its vast new home at the end of last summer. A former commercial garage, given a soft touch restoration that involved a huge amount of work in order to leave it seemingly unaltered.
Your first impression is of soaring volumes. But then you're drawn to the beautiful polished concrete floor, and if the sun is shining, to the views over Tregeseal and beyond.
Spend time absorbing your surroundings.
And only then move on to enjoying the work.
Bees (and the odd wasp) in my bonnet is the current exhibition that will show through until August. It takes a sometimes light hearted look at the serious issue of the bee's decline.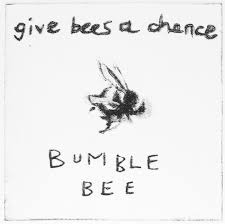 If you're anywhere near St Just then do go.
The work is beautiful; sometimes vast, often charming, and always reminding us of the plight of these little fellows, upon which we all depend.
The space will leave you thrilled.
Thanks to Fynn for use of the photos.