OK. I know that the official definition of dark skies refers to those most rare spaces where there is no light pollution, and here at Tregiffian we have the twinkling lights of Sennen, and a hint of glow from the St Just metropolis, but hey it's still pretty dark. Just look at this photograph of the Milky Way over Myn Tea from Frances Gard's stay in September.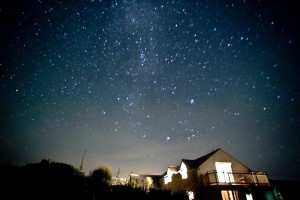 Last night I stood out on the balcony in the dark and just marvelled at the stillness, the lighthouses on the Scilly Isles in the distance.
In doors the gorgeous little Douvre wood burner kept us warmer than we needed, even with no back up heat.
But in bed later with the windows open we could hear the roar of the sea and we knew there was something more exciting on its way.
See tomorrow's post for what transpired.