As the time finally approached for Miki and Justin to leave Myn Tea and carry on the next stage of their adventure we became both saddened to lose them from Tregiffian, but also excited about getting to stay in our original Sennen home. As I'm sitting writing now the sky is close to clear and looking out to sea makes typing anything a wrench.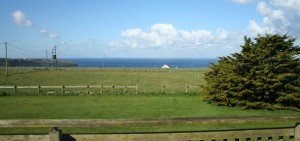 I'm sure the tree has grown loads in the time since we were last here. Part of moving back involved buying a lot of furniture, some new and some lovely older pieces. I'm particularly in love with the sofa, definitely a piece to sit in, rather than on.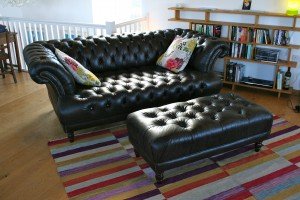 I've been a tad poorly today, but it has lent a degree of bliss to a quiet day, given an excuse to eschew all the painting that's waiting my attention, and instead take a slow leisurely walk around Sennen, including checking out the new ponds up towards Escalls which have quickly become established with newts and tadpoles.

The first guests arrive at Myn Tea at the end of April – I think they're in for a treat. Here's another view out of a window at Myn Tea…