How do you describe Lafrowda?
By title it's a community arts festival.
But that could be anything couldn't it?
For two weeks it's great to have a huge variety of events going on. Most of them low key, but some big ones too.
The lovely John Harry reading his poems in the library, mixing dialect that I remember hearing my mum use, with tales of church fetes, funerals, and days that will soon be forgotten.
Cornish Wrasslin in the Plen. Like Judo, more martial, less art! I'm no expert but I understand they were contesting the Walter Hicks (of HSD fame) Cup.
The Play Me Piano on Market Square, just sitting there ready for anyone to come and tinkle its ivories.
There were exhibitions, plays, concerts galore.
Something for everyone? How about this for a diverse range – we had Pendeen Silver Band, and we had a DJ set from Dystopian Disco Dummies, and most things in between.
There was a tea dance at the Methodist chapel, there was Dreckly Come Dancin' at Cape School, and there was St Just HAS Got Talent at The Star.
And there was a lot more I've forgotten.
The two biggies for me were: Buggy Racing then Godden on Lafrowda Eve, and Lafrowda Day itself.
Buggy Racing, Soap Box Racing, Gravity Challenge, call it what you will, this was the perfect year for this inaugural event given our theme of Speed. Fast and Curious.
Home spun carts came on pram wheels (and indeed came off pram wheels too), bike wheels and bigger. It certainly seemed that bigger wheels gave great stability, and the smallest came to grief on the only bend, The Age Concern hairpin, before the long high speed Clemo's Straight.
One beauty was better made than anything that ever came out of Longbridge and whispered past in a silent statement of design prowess, a ghostly Bugatti, perhaps from Bollowal.
Fortunately ace photographer Julian Marment was at The Age Concern supping tea and dipping his hevva cake when the cavalcade came by.
This link will take you to the film of Joe's wipe out on Facebook, the file's too big to insert. Joe's Wipeout.
After generous application of Elastoplast and Germolene I'm pleased to say the humans were mere walking wounded, I'm not sure if Joe Manser's Flyer will ever take to the streets again though.
After the racing came the dancing with a set from charming local singer, followed by a demon set from our very own Godden. I kept having to ask myself whether it was really only 9pm and if I was really in sleepy St Just.
After a good sleep we were up with the larks for the main event: a whole day of merrymaking, processions, acrobatics, bands, bands and more bands.
Archavon provided the perfect base to be in the centre of everything, yet still offering rest and sanctuary from the noise and crowds, although we had a steady stream of people coming in wanting to see "the gallery". Gallery? It's our home!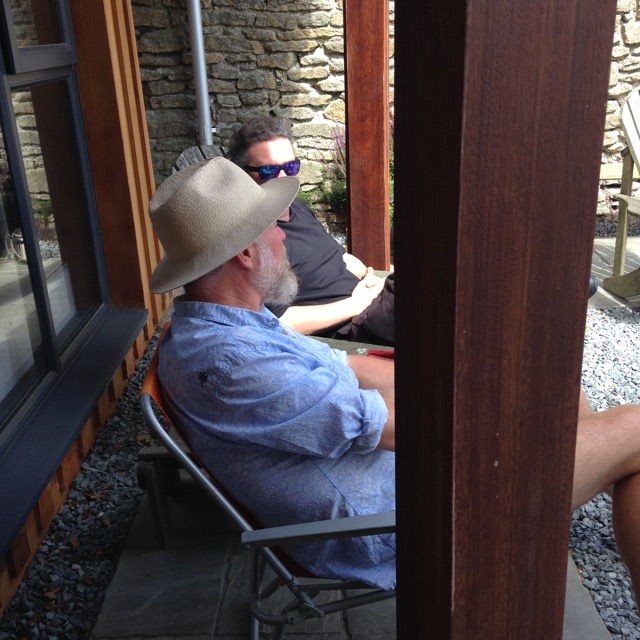 I'll let the photos tell the story, except for a mention of the final act.
As I sit here in the house now, overlooking the Plen, it's hard to believe it happened at all.
As dark was finally falling on after a hot sunny Lafrowda Day the last act kicked off.
Dystopian Disco Dummies have a reputation for putting on a heck of a show and they certainly delivered on Saturday night.
I tried to imagine describing them to someone who never seen a DJ perform, I chose to tell my mum…
"Well, most of the time you can't just get glimpses of the performers through the dry ice. There's a gorilla in a Guantamano prison jump suit playing mad guitar over whatever track is being played by his partner, the DJ, who resembles Darth Vadar, with piercing LEDs for eyes, who hardly moves other than his hands. A lot of the time there are two incredibly fit dancers wearing gold studded bras and not much else gyrating with riding crops which they twirl like majorette's batons. Oh and now and again this guy in a military jump suit joins them, dancing in a gas mask. Other than that Mum it's just another musical event in the Plen."
Lafrowda 2016 was a triumph, a great success delivered by the brilliant and hard working team. Thank you every single one of you.