Imagine all the rubbish cleared, and in its place a simple, elegant Japanese courtyard and you'll get a feel for what's to come.
All we need now is for the team to dedicate a week or so to the project, then leave the floor to dry while we sort out the courtyard and Archavon Studio will be ready for its first guests.
I'm still hoping that will be mid-April.
Hoping.
Well, we hoped, but it didn't happen. The team are flat out on another job, and love them though we do, they're stretching our patience by turning up now and then for a few hours.
The brise soleil look good and function well at creating privacy between house and studio.
We're promised the outside will be finished on Friday 29th April, and the floor polished. That will be a big milestone, and will leave the studio ready to receive its kitchen.
The other big development is that the roof light is in, creating the sky space we'd so wanted that will raise Archavon Studio from posh shed, to extra special studio room.
And then two weeks later…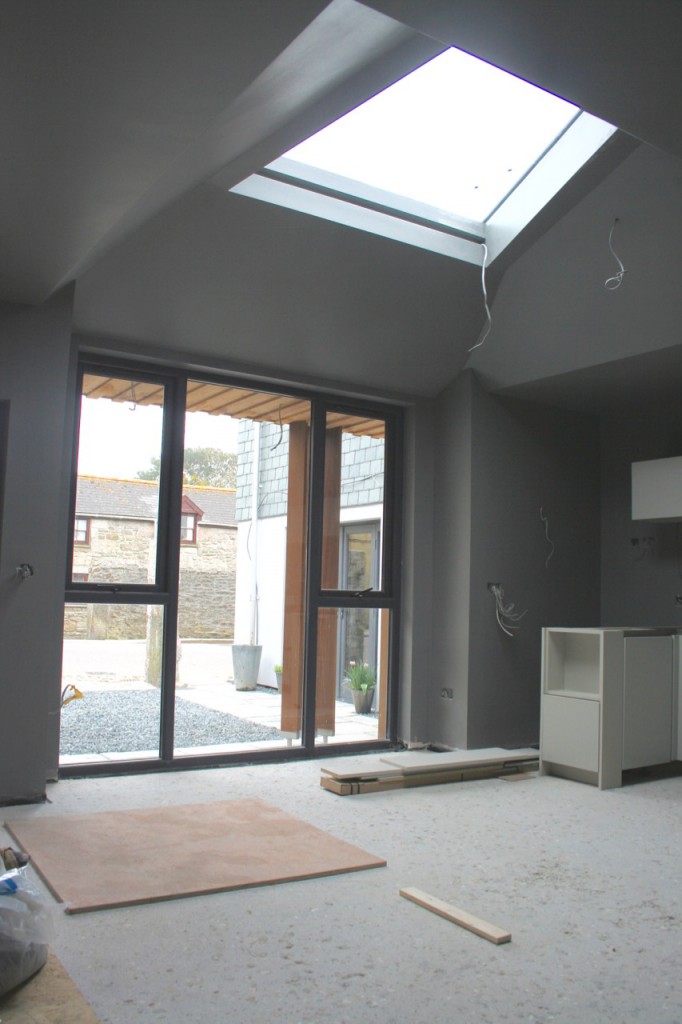 These photos might just be the last work in progress – we're so nearly there…
It seems ironic that the best kitchen we have ever had is to go into this beautiful little space that we're unlikely to use. I hope our guests love it.
The back of the bead is gorgeous panga panga parquet flooring, and the fab deco mirror involving hiring a van to get it home from Ripon. It was 2″ too big for the car.
These will be the last update photos before we finish and get someone who knows what they are doing to shoot it again…
We're busting with excitement – the project has over run by months, the budget has soared, but the end result is very different to anything in St Just, I hope our guests will love it as much as we do.