After I posted the last article regarding us escaping the notice of voters in Trip Advisor's Best Beaches of the World a few lovely folk dropped me notes to point me in the direction of such lists that do include the gorgeous beaches of west Cornwall.
Conde Nast topped my favourites by including Sennen and this lovely picture, and in the Sunday Times Best beaches in Europe, local jewel Porthcurno pulled the most British votes, though I can't find the final list to see how it faired.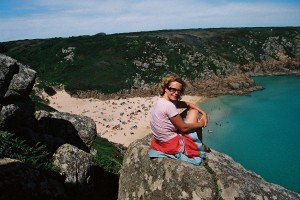 Here's Mindy at The Minack above Porthcurno a couple of summers back.
What could beat a day on the beach, then wrapping up and going to the open air theatre for the evening?
For surfers, sun bathers, walkers or just folk who love the sand in their toes our beaches take some beating. Especially if you can accept the weather and enjoy the good bits.