We're blessed with superb hills in the far west.
And generally they're empty.
While the crowds head to Sennen and St Ives, those in the know head inland for the best views of the coast.
We're told the ancients worshiped at sites on Carn Galva. There are the remains of settlement on much of the higher ground such as Chun and Zennor Hill. No matter how hard life must have been, when striding across the moors you understand the draw of these incredible areas where land sea and sky seem to meet.
Today we left the car in the little car park at Zennor and on foot took the village exit, crossed the B3306 and headed uphill, crossing to the higher footpath behind the beautiful little secluded terrace at Rosemorran.
The path to the top is fairly easy to follow, particularly at this time of year. As you climb remember to look back frequently as the changing vista gradually opens up.
Foage Farm looks idyllic with its well groomed long horn sheep, then after the farm you're in scrub, and the path is less distinct.
We double back to get to the quoit. Fortunately it's massive and you can see it from a distance. When once its capstone was in place it must have been hugely impressive, it must be about 4 metres x 2 metres and weigh more than several cars.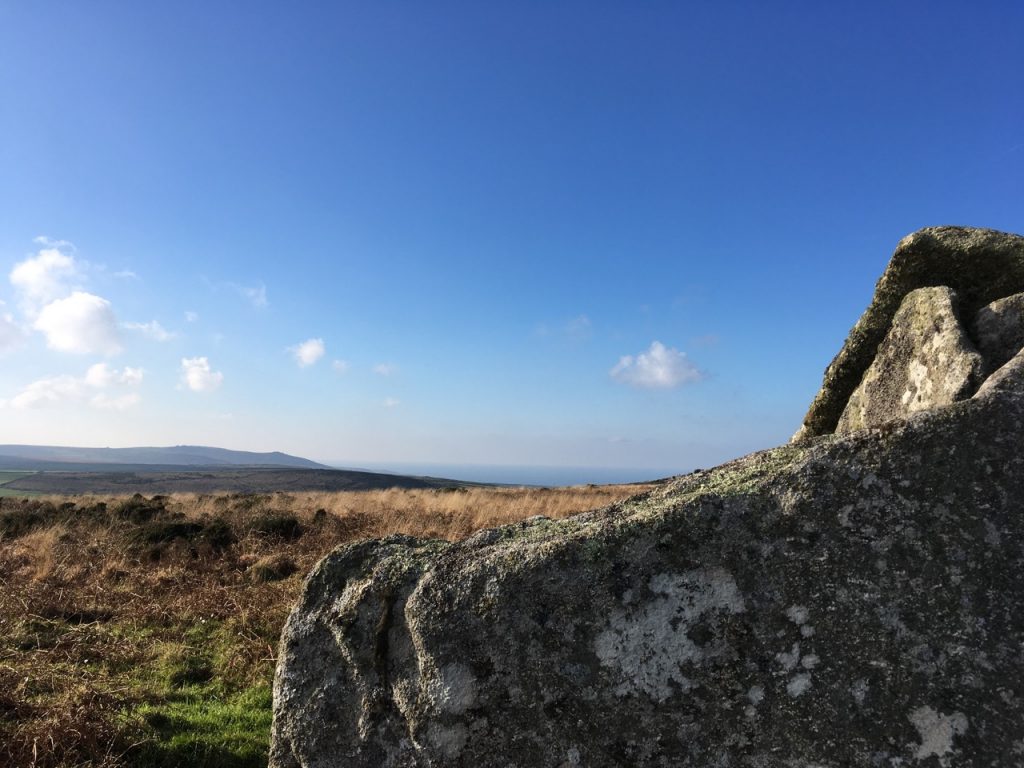 On the carn a family are scattering ashes and that feels like a direct link back to the practices of the ancients. We took some exciting photos of the rock forms below as their dearly departed was cast to the winds.
Why was this stone so immaculately cut? And then simply left here to delight the observant?
We tried to get across to Trendrine Hill but our every attempt was thwarted by path that simply petered out. Instead we dropped back down to the main road at Eagles Nest, where the celebrated local artist Patrick Heron lived. Today in the crisp clear air his house was even more attractive.
A few hundred yards on the St Ives road took us to the River Cove footpath where we joined the old church path above Trevessa Farm. From there we headed back on the distinct and often paved path through the fields to Zennor.
There are few people around here, and the ravens behave with confidence, showing off their strange vocal dexterity. We've walked the path a couple of times recently and both time heard a pair calling in the most strange fashion.
Our reward for three hours of great walking was a fine pint in The Tinner's, where unusually we had the place to ourselves. That roaring fire has never seemed more welcoming!
Don't go up on the moor without a good map – paths do disappear and if you're going to avoid doubling back you'll need to know where to head.