It's often so easy to ignore the simple beauty that's on your doorstep.
Each time I stay at Tregiffian I do my best to absorb what's immediately around me, and stop and contemplate.
For our second in this random series of The Best Walks With Food it seemed only right to think of what we could walk to from the door of the self catering cottages at Tregiffian. There are many variations on this walk to make it longer, but for now let's just head to Sennen along the coast.
Whether you're at Myn Tea, New Forge or The Old Dairy head back down the lane and take that beautiful little footpath down through the tunnel of trees that opens out to the view of Gwenver.
Then depending on the tide either walk along the beach if it's really low, or along the cliff path towards Sennen.
In Sennen head towards the Lifeboat House and you'll find Little Bo Cafe. It's open most of the time in the summer, and you can sit outside unless the weather's rough.
The food is great. Adrian and Rosie cook up a storm in their simple little kitchen. My favourite dish is the falafels it pitta with a salad, ideally with a strawberry milkshake and a black coffee. Amanda will go for a crab sandwich whenever it's available. A jacket potato is great if you're a bit more hungry.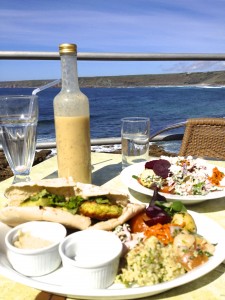 The food is simple, honest, reasonably priced, and the venue is pretty damn special – give it a try.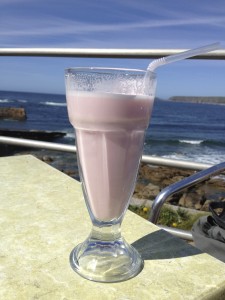 To vary the walk back you could carry on past the Roundhouse Gallery, through the car park and up the hill to the lookout at Mayon Cliff. You'll probably meet National Trust's Annie there. Lovely lady and she can talk for Ireland! Then you could carry on to Lands End, or double back to the Coastguards Cottages and walk along Maria's Lane where there seems to be an ongoing Grand Designs Competition.