Many of our guests travel a long way to get to Cornwall.
We have regular visitors from Germany, France, Austria and Switzerland, as well as one off visitors from much further afield.
The Europeans who drive to us often ask where they should stay on the way home to make the most of their holidays.
I usually suggest Somerset or Dorset. My sis lives in Castle Cary, Somerset and I love visiting there, and family holidays in Dorset as a lad secured its special position in my memory.
Now though, I've found the perfect place to recommend.
The Queens Arms in the tiny village of Corton Denham is a dream location.
We arrived this afternoon, a little too early to get to our room, so we headed off up the imposing Corton Hill, and sat on the top in the sunshine for an hour or so marveling at the view. The hill is only 196 metres high – but that's a heck of a height when everything for miles is completely flat. I reckon that we could see 20 miles or more today, and almost all of it Somerset Level.

The pub has stood here since 1861, originally a cider house. Farm workers would queue at a hatch to collect their weeks wages, then shuffle along to the next hatch to spend it all on cider!
Today there's a good range of ales and wines, even Amanda's favourite Sierra Nevada, although most are considerably more local.
If you happen across this place have a pie and a cider. We were hungry after a good walk and shared a pie to save ourselves for dinner. It was the best pork pie in years – ranking right up there alongside the ultimate that I remember from The Shambles butcher in York.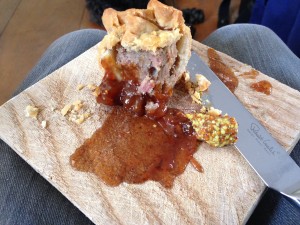 So the beer is good, the room is very comfortable with a great bed – it's time to stop writing and find a table for dinner.
The Queens Arms. Corton Denham. Just a few miles off the arterial A303. And half way between Ashford International (for the Channel Tunnel) and the cottages at Tregiffian and Porthleven.