September has long been my favourite month.
Before we moved back to Cornwall we'd always try for a September visit.
The sea is as warm as it has been all year.
While the evenings may be shorter and cooler, you're as likely as at any time of the year to get a few good weather days every week.
And of course with the children back at school it is quieter too.
This year has been even better than I'd hoped for, and the first week of October has been stunning too.
We both have our birthdays in September and we try to do something good for each.
Mine is first and we spent it on Dartmoor in suitably atmospheric misty rain. The dampness didn't deter a jot from the joy though. We stayed at Out of the Valley, a beautifully built cabin on the edge of the moors. This link will take you to the full story.
For Amanda's birthday (a much smaller number than mine) we took the super easy cross channel ferry from Plymouth over to Roscoff. It's a long trip, but worth it, we had our fill of crêpes and great Breton cider as well as delicious sea food from a favourite down the coast.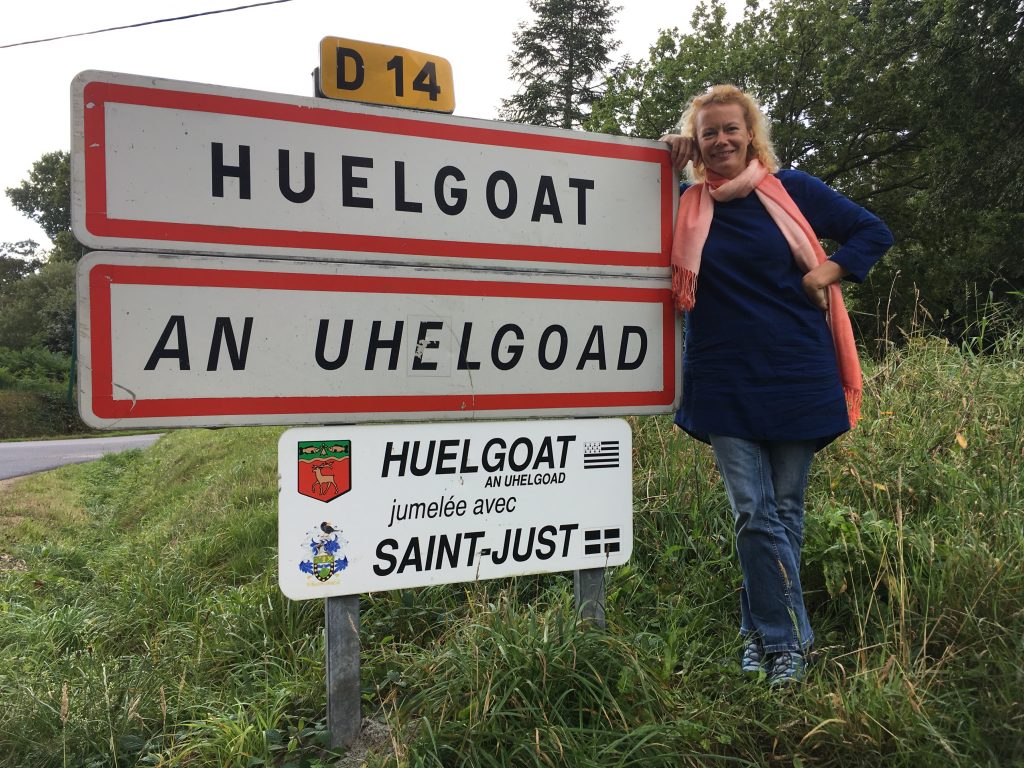 Porthtowan
I grew up in Redruth and so Porthtowan was one of our more visited beaches, although I haven't been there in ages. On 10th September the main beach was heaving with people pretending it was still summer, so we climbed the scary steep south cliff and descended to the lesser known beach called Annie's Side. It's not for everyone, as you need to use a rope on some of the more precipitous sections, but the reward was huge – a large beach on a hot September day, with not a soul on it.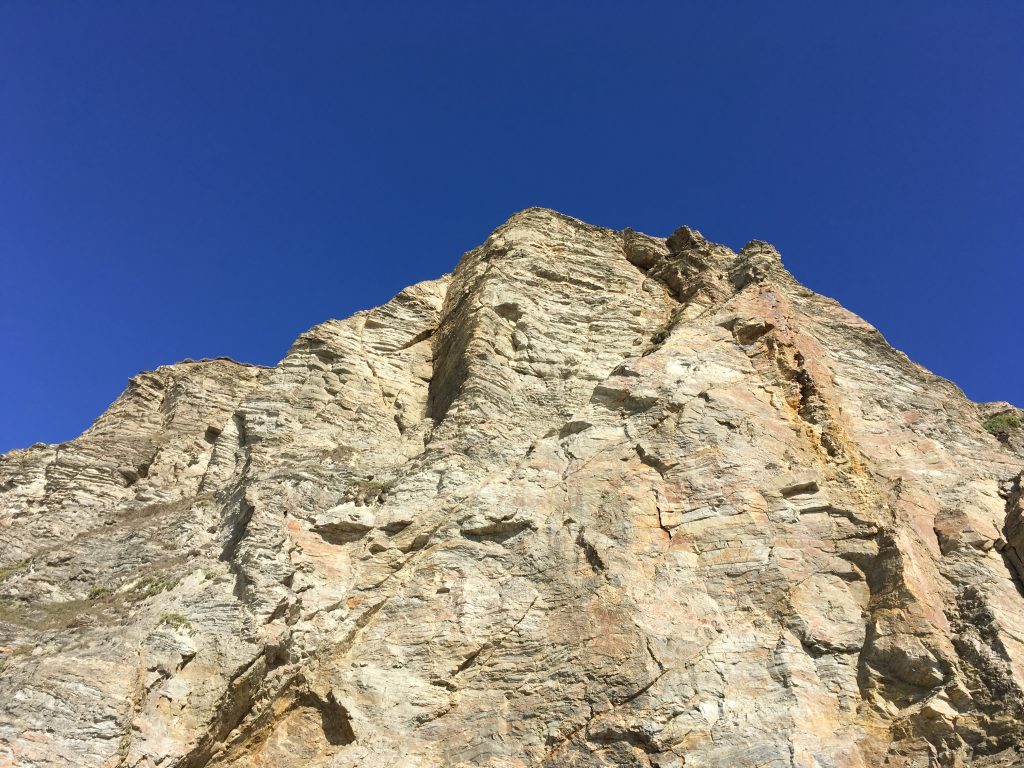 Porthtowan isn't the prettiest of beach villages, but the scenery around it warrants a visit and it's only about 40 minutes up the coast from St Just.
Porthgwarra
During the month we signed up a gorgeous new cottage that will be on the website soon, I'm just waiting for the photos to get to me. It has meant a few trips over to the sweet Porthgwarra where the little tidal beach is lovely to swim in.  Often it has a resident seal bobbing around who doesn't mind swimmers. The cottage sleeps four and there's a cot for super juniors too. It has started booking even without being advertised. I took two great walks from Porthgwarra on the visits, the first to Porth Chapel where mum and dad used to take me many decades ago, and to Nanjizal, a current favourite that's a walk no matter where you start and so it's generally quiet all year.
New Mill
Over the coming weeks I'll write some notes to help guests explore the area around the already popular and stunning Primrose Cottage. That will mean further trips to New Mill where the combination of moorland walking and the coastal destinations for those walks will keep me very happy. I'm sure I can walk to the Gurnard's Head from there.
Sometimes you have to forget everything you know about a place to try to see the wonders that are there every day. This little fellow could have easily been ignored, but getting down and lying in the road I could see just what a beauty he was. Does anyone know what on earth he carries a caterpillar sized sword for?
I have so many photos of Gwenver – but when it looks this good a few more won't hurt.
Treen Cove
And here's somewhere not many people will have been to, especially as it's getting ever harder to reach. Treen Cove is in the shelter of Gurnard's Head (the actual headland rather than the pub) and accessed by descending the path through the hamlet of Treen and at the bottom where the last stop for the lane is a private house there's a little path that runs down to the cliffs and used to cross under the house and down to the beach. Now the only way to get down there is climbing down the rocks. On Sunday 24th when we went it was pissing it down and we got soaked, but hell, it was 100% worth it. I must go back when it's dry.
Next day in the same area it was a beautiful clear day, this is at the trig point on top of Watch Croft which has one of the best views anywhere in the area. I could see right up to Redruth's Carn Brea, and Trevose Head past Newquay.
St Ives
St Ives? I rarely go to St Ives, not because I don't like it, but because I don't like the crowds. But with a good friend staying and another beautiful day it would have been rude not to. And wow it was good. Prices are still soaring and there are some better shops too now. We had great pasties from the St Ives Bakery, a walk through shop on the main street.
That crystal clear day ended at The Crown Mines, Botallack. Although we were back in Botallack at The Queens for a couple of fine ales in the evening and a good walk home after.
On one of the days I must have walked over Carn Kenidjack too – and what a view there is from there too. Just 20 minutes walk from St Just.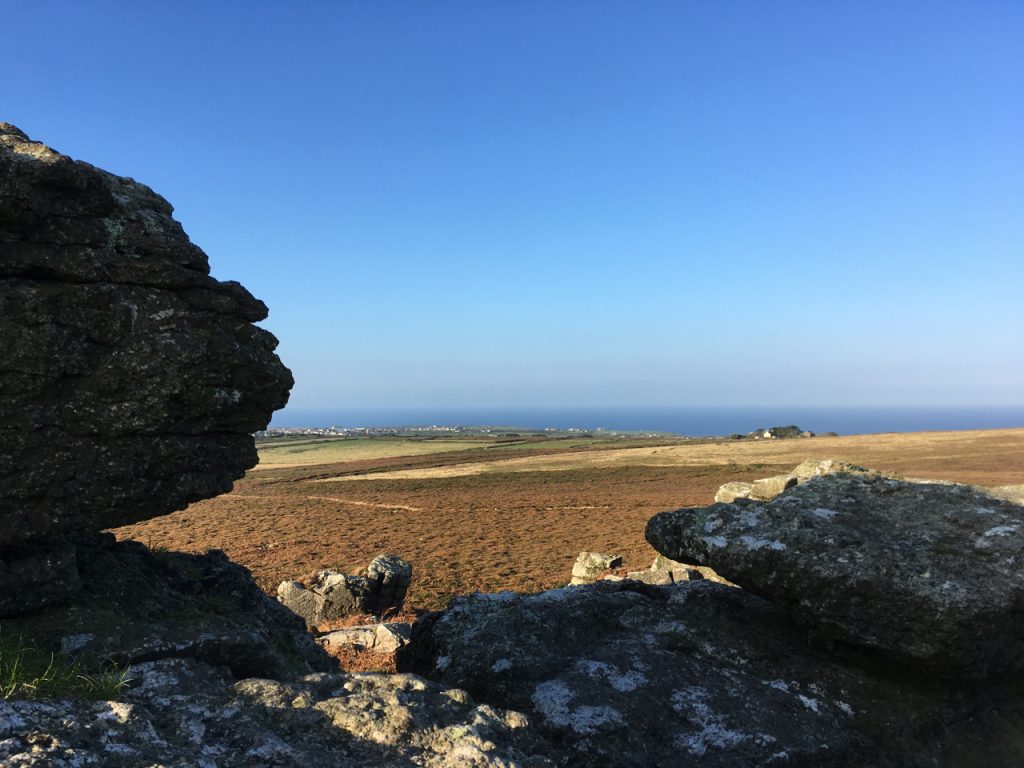 What's there to look forward to?
So much!
While the evenings are drawing in now, and it's distinctly cooler out of the direct sunshine, there is plenty of compensation. The lower sun angles mean more of it flows through the house, giving the lift that autumn needs. And last year I photographed my first daffodil flowering in a field on 1 November. Daffodils – there's something to look forward to!
So long September. I have loved you once again.